Posted: March 18, 2016
Filed under: Write, Writing
| Tags: Anne Lamott, Bird by Bird, creative writing, fiction, romance writing, shitty first drafts, writing
Leave a comment
On February 24th, I started writing the first draft of my first novel. This isn't the first time I've started the first draft of my so-called first novel. I've developed–and perfected–a start/stop method of writing, where I plan and plan and plan, then after spending waayyyy too much time in the planning phase, I will finally take the plunge and start writing the opening scene.
During the summer, I wrote three or four opening scenes and decided they sucked. I went back to my outline and delved a little deeper, and again got too comfortable staying in the planning phase. Then I got to thinking about what exactly was stifling my progress. Why the hell can't I just sit down and start writing? Why can't I get it right???
I reminded myself that I'm a novel-writing newbie. It's not going to be easy. But realizing that wasn't enough to get me writing that first scene again. So I turned to my Kindle copy of Anne Lamott's Bird by Bird and read the chapters entitled Shitty First Drafts and Perfectionism. I read them over several times, highlighting things that really resonated with me, such as
Almost all good writing begins with terrible first efforts.

The first draft is the down draft–you just get it down. The second draft is the up draft–you fix it up.

Perfectionism is the voice of the oppressor, the enemy of the people. It will keep you cramped and insane your whole life, and it is the main obstacle between you and a shitty first draft.
That last statement was my Aha moment. My pursuit of perfectionism was holding me back from starting the first draft. I kept starting and stopping because what I was writing was not perfect.
From that moment I said screw it. Enough with the planning. Enough with the stalling and waiting for perfect prose to flow through my fingers. I'm going to write the shittiest first draft ever written.
So I sat down that day and I started typing, and believe it or not the story started to flow. It's clunky and full of holes, but I let go of trying to be perfect and allowed my self to start writing my shitty draft, which I will continue to work on until I reach the end.
---
Posted: April 6, 2015
Filed under:
Read
| Tags: beach read, book review, Elin HIlderbrand, fiction, Nantucket Island, read, The Blue Bistro
Leave a comment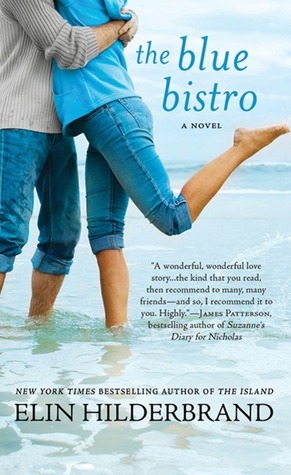 I am officially declaring Elin Hilderbrand as one of my new favorite authors. Last year, I read Beautiful Day, thoroughly enjoyed it, and decided then that I would be reading more books by this author.
The Blue Bistro was a definite page turner for me, and the perfect beach read. I loved this book.
It's a story that takes place one summer on Nantucket Island. The main character is a young woman named Adrienne Dealey. She's lived a somewhat nomadic life up until this point, moving from one resort town to the next as a hotel worker, never putting down roots.
She finds herself on Nantucket Island flat broke. Acting on a tip from someone she met on the ferry ride over to the island, Adrienne goes to The Blue Bistro in search of a job. There she meets good-looking Thatcher Smith, co-owner of the restaurant, and is offered a position as the assistant manager for the restaurant's final year.
There's a bit of mystery going on with the Blue Bistro's co-owner/chef, Fiona, who does not want to be photographed and rarely, if ever, comes out of the kitchen. The close relationship between Thatcher and Fiona is one that both intrigues and infuriates Adrienne, who finds herself more and more attracted to her new boss.
In no time, Adrienne learns the restaurant business, rubs elbows with the island's rich and famous, and enjoys the work as well as the generous income the job provides. Over the course of the summer, she falls in love, questions are answered about the mysterious Fiona, and Adrienne comes to terms with the past that she's been running from since childhood.
The Blue Bistro has everything I like in a beach read – interesting characters, a bit of glamour, a little romance, as well as humor and heartbreak, and it's a book that I highly recommend.
What is your favorite Elin Hilderbrand book?
---
Posted: March 30, 2015
Filed under:
Write
| Tags: fiction, novel writing, self-doubt, writing, writing practice
Leave a comment
My first post of 2015!
Yes, I have neglected this blog once again, but that has become part of my blogging style. There has been a reason for my longer than usual absence. Nothing earth shattering, mind you. I've just been doing some writing.
My version of writing would actually be categorized as not writing. It's more like planning and outlining for weeks on end. Writing little bits here and there. Starting a scene, then abandoning it. Starting a writing project (in this case, a novel) and abandoning it for what sounds like a better one, then outlining the crap out of that idea.
When I get to the point where it's time to stop planning and start writing, I cannot articulate into words (or the right words, anyway) the scene that's going on in my head.
I choke.
What comes next is a downward spiral of despair where every hour of the day I ask myself why I bother. Remind myself that I suck. Who am I kidding? Yada yada yada. After about five or six days of that I come to my senses and realize this is part of the writing process.
Lack of experience, lack of discipline and lack of confidence are holding up my novel-writing progress, so I've decided to set it aside for the moment. I have a boatload of unfinished/abandoned writing pieces and only three completed short stories under my belt. Perhaps it's too soon for me to dive into writing a novel.
The only way to gain experience or confidence is to put in some serious writing practice. And that's exactly what I plan to do.
---