Posted: April 6, 2015
Filed under:
Read
| Tags: beach read, book review, Elin HIlderbrand, fiction, Nantucket Island, read, The Blue Bistro
Leave a comment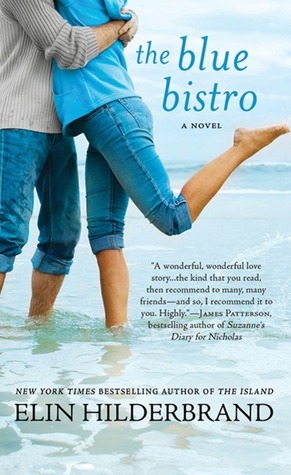 I am officially declaring Elin Hilderbrand as one of my new favorite authors. Last year, I read Beautiful Day, thoroughly enjoyed it, and decided then that I would be reading more books by this author.
The Blue Bistro was a definite page turner for me, and the perfect beach read. I loved this book.
It's a story that takes place one summer on Nantucket Island. The main character is a young woman named Adrienne Dealey. She's lived a somewhat nomadic life up until this point, moving from one resort town to the next as a hotel worker, never putting down roots.
She finds herself on Nantucket Island flat broke. Acting on a tip from someone she met on the ferry ride over to the island, Adrienne goes to The Blue Bistro in search of a job. There she meets good-looking Thatcher Smith, co-owner of the restaurant, and is offered a position as the assistant manager for the restaurant's final year.
There's a bit of mystery going on with the Blue Bistro's co-owner/chef, Fiona, who does not want to be photographed and rarely, if ever, comes out of the kitchen. The close relationship between Thatcher and Fiona is one that both intrigues and infuriates Adrienne, who finds herself more and more attracted to her new boss.
In no time, Adrienne learns the restaurant business, rubs elbows with the island's rich and famous, and enjoys the work as well as the generous income the job provides. Over the course of the summer, she falls in love, questions are answered about the mysterious Fiona, and Adrienne comes to terms with the past that she's been running from since childhood.
The Blue Bistro has everything I like in a beach read – interesting characters, a bit of glamour, a little romance, as well as humor and heartbreak, and it's a book that I highly recommend.
What is your favorite Elin Hilderbrand book?
---
Posted: September 23, 2014
Filed under:
Read
| Tags: book review, chick lit, dysfunctional family, fiction, Liane Moriarty, sisters, Three Wishes, triplets, women's fiction
3 Comments
I'm not sure what took me so long to discover Liane Moriarty, but I'm glad I did. This was a really entertaining book and so easy to read. Before I go into my thoughts on this book, here's the Good Reads blurb:
Australian triplets Lyn, Cat, and Gemma Kettle are about to turn thirty-three and one is pregnant, one has just had her life turned upside down, and one is only just keeping hers from skidding off the fast lane. Meanwhile, their divorced parents have been behaving very oddly indeed.
In this family comedy by Liane Moriarty, we follow the three Kettle sisters through their tumultuous thirty-third year — as they deal with sibling rivalry and secrets, revelations and relationships, unfaithful husbands and unthinkable decisions, and the fabulous, frustrating life of forever being part of a trio.
Actually, these triplets are about to turn thirty-four, not thirty-three. The book begins with the sisters at a restaurant having a great time celebrating their thirty-fourth birthday when in the blink of an eye things go downhill fast. An argument erupts and one of the sisters ends up with a fork stuck in her pregnant belly.
That scene is what made me turn the page to find out more.
From there, the story backtracks. It follows each sister over the course of a year and reveals the events that lead up to the explosive birthday celebration. Each sister has their own personal issues to deal with ranging from infidelity, miscarriage, the ups and downs of motherhood, panic attacks, career, and surprise pregnancy, as well as their crazy parents.
The Kettle triplets have their own distinct personalities. Cat is sarcastic and puts on a tough demeanor. Lyn is organized and in control. Gemma comes across as a ditz who is just floating through life. I have to say, Gemma was definitely my favorite sister. Like most siblings, they don't always get along with one another, and there is a level of dysfunction within this family which adds to the humor of the book. As the story unfolds, each sister goes through their own personal crisis, forcing you to turn the page to see what happens next. These characters are easy to relate to and their every day struggles are realistic.
One thing I enjoyed throughout the book was the short vignettes before each chapter. These stories are told by complete strangers who are recollecting a time in their past when they've come across the triplets. Each story gives a little bit of insight into the sisters and their family. I thought this was a clever way of sharing a bit of back story about the Kettle family.
I gave this book four stars because I really enjoyed it, and I will definitely be reading more of Liane Moriarty's books in the future.
Have you read this book? If so, what did you think?
---
Posted: September 11, 2013
Filed under:
Read
| Tags: bella andre, book review, fiction, from this moment on, romance, romance novel
1 Comment
From This Moment On by Bella Andre.  Ah, what to say about this book…
Well, first things first. Here's the synopsis from Good Reads
 Just one night…
Marcus Sullivan has always been the responsible older brother, stepping in to take care of his seven siblings when their father died. But when the perfectly ordered future he's planned turns out to be a lie, Marcus needs one reckless night to shake free from it all.
Known throughout the world by only one name—Nico—pop songstress Nicola Harding is seen as the ultimate sex kitten. But it's all a lie. After a terrible betrayal she refuses to let anyone else close enough to find out who she really is…or to hurt her again. Especially the gorgeous stranger at the bar.
One night is all Nicola and Marcus agree to share with each other. But instead, a deeper connection than either of them could have anticipated begins…
Now, here are my thoughts:
This is a character-driven story with relatively no plot. The main focus is the intense attraction and need Marcus and Nicola have for one another.
Hell, I want Marcus.
From the moment they meet sparks fly. The last thing either one is looking for is any kind of relationship. After their first meeting, they are unexpectedly brought back together and that's when things heat up between the two. I didn't actually count the number of pages devoted to their sex scenes, but I was tempted to do so. It really seemed like most of the book was taken up by the hot and steamy time they spent between the sheets, and in the shower, and on the beach, and…I think you get the picture. Of course, I'm not complaining. Those scenes are what made this book a page turner.
This is the first Bella Andre book I've ever read. It's also the second book in the Sullivan's series (a series of 8 books I think).
Will I read anymore of her books? Hmm…good question. Although I do prefer a little more substance with regard to the plot-to-sexy time ratio of a romance novel, I have no doubt that I'll be reading more from Bella Andre.
From This Moment On is one of those books that is perfect for a day spent lying on the beach or a rainy day curled up in bed. A quick and entertaining read.
Have you read this one, or any books by Bella Andre? What do you look for in a romance novel – (a) more plot/less sex, (b) sex free-for-all/no plot, or (c) a nice balance of plot/developed characters/sex?
---