Posted: June 20, 2016
Filed under:
Read
| Tags: books, goals, reading, reading challenge, summer reading, to be read
Leave a comment
Lately, I've been busier than usual. A few months ago I made the decision to go back to school. My current "career" has turned into nothing more than a dead-end job. Earning a living as a novelist is my dream, but realistically that doesn't happen overnight, and most writers do have day jobs. Since my day job currently sucks, a change needed to happen and going back to school was the only answer. And even though this is a good thing, it has cut into my creative time.
Writing is on the back burner for the time being, and my grand plan to make a dent in my To Be Read pile has come to a screeching halt. I haven't read too may books so far this year, and with under six months left in 2016, I wonder if all hope is lost with my reading goals. Maybe. Maybe not.
I think this might call for a challenge. It'll serve as motivation to cross some books off my ever-growing To Be Read pile. Twelve books from now until the end of the year sounds like a good number. Enough to where I'll need to put forth some effort, but still an achievable goal.
The following list is my 2016 To Be Read Challenge:
1. The Taming of the Queen by Philippa Gregory
2. The Physick Book of Deliverance Dane by Katherine Howe
3. Best Friends Forever by Jennifer Weiner
4. Jane Eyre by Charlotte Bronte
5. Garden Spells by Sarah Addison Allen
6. The Beach House by Georgia Bockoven
7. Rebecca by Daphne du Maurier
8. True Colors by Kristin Hannah
9. The Sparrow Sisters by Ellen Herrick
10. Whisper Beach by Shelley Noble
11. The Four Seasons by Mary Alice Monroe
12. Silver Girl by Elin Hilderbrand
For the rest of the year I will be working my way through this list of books. Feel free to join in and read these along with me or create your own rest-of-2016 reading challenge.
---
Posted: April 6, 2015
Filed under:
Read
| Tags: beach read, book review, Elin HIlderbrand, fiction, Nantucket Island, read, The Blue Bistro
Leave a comment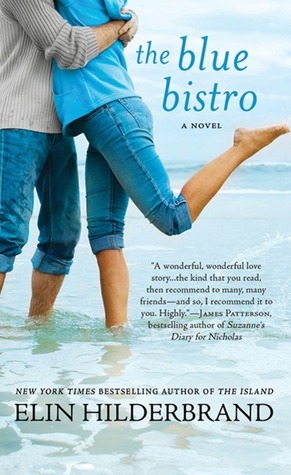 I am officially declaring Elin Hilderbrand as one of my new favorite authors. Last year, I read Beautiful Day, thoroughly enjoyed it, and decided then that I would be reading more books by this author.
The Blue Bistro was a definite page turner for me, and the perfect beach read. I loved this book.
It's a story that takes place one summer on Nantucket Island. The main character is a young woman named Adrienne Dealey. She's lived a somewhat nomadic life up until this point, moving from one resort town to the next as a hotel worker, never putting down roots.
She finds herself on Nantucket Island flat broke. Acting on a tip from someone she met on the ferry ride over to the island, Adrienne goes to The Blue Bistro in search of a job. There she meets good-looking Thatcher Smith, co-owner of the restaurant, and is offered a position as the assistant manager for the restaurant's final year.
There's a bit of mystery going on with the Blue Bistro's co-owner/chef, Fiona, who does not want to be photographed and rarely, if ever, comes out of the kitchen. The close relationship between Thatcher and Fiona is one that both intrigues and infuriates Adrienne, who finds herself more and more attracted to her new boss.
In no time, Adrienne learns the restaurant business, rubs elbows with the island's rich and famous, and enjoys the work as well as the generous income the job provides. Over the course of the summer, she falls in love, questions are answered about the mysterious Fiona, and Adrienne comes to terms with the past that she's been running from since childhood.
The Blue Bistro has everything I like in a beach read – interesting characters, a bit of glamour, a little romance, as well as humor and heartbreak, and it's a book that I highly recommend.
What is your favorite Elin Hilderbrand book?
---
Posted: December 3, 2014
Filed under: Knit, Read
| Tags: cozy mystery, Knit Picks, knitting, Krista Davis, nina's design your own sweater class, swatch, sweater, The Diva Runs Out of Thyme, yarn along
5 Comments
Every Wednesday, Ginny over at Small Things (a blog I just discovered the other day) has a Yarn Along, where knitters link up and share their latest knitting project as well as what books they're currently reading. This week I thought I'd join in on the fun.
I've been knitting for years now, but I've stuck with fairly easy projects like scarves, dishcloths, and uncomplicated afghans. Sock and garment patterns have always intimidated me, but I've decided to take the plunge and try a sweater. Nina's Design Your Own Sweater Class from Knit Picks is a series of video tutorials that I found on YouTube and so far they seem to be pretty easy to understand.
The yarn I'm using is Vanna's Choice by Lion Brand. It's 100% acrylic. I'm hoping it doesn't end up feeling too scratchy, but I have enough balls of it to make a sweater. Since this is my first attempt at making a garment, my expectations are set fairly low as far as the outcome of this project. The goal is to actually finish and make a sweater that fits. That's really all I care about at this point.
I've started by creating a few swatches to check my gauge before I proceed to the next lesson in the class. Over the weekend I'll move on to the next step – casting on and working the hem.
The book I'm reading is The Diva Runs Out of Thyme, a mystery by Krista Davis. I'm about one hundred pages in and so far it's a pretty good read. Sophie, the main character, keeps finding dead bodies, and she's become one of the main suspects in the murders. I like a good mystery. It's always fun to try to guess the real killer. Right now, though, I don't have a clue whodunit.
---